seedandplant
Regular price
Sale price
₹35.00
Unit price
per
Sale
Sold out
What will you have in product ?
Quantity of seeds : 80 to 90 (Approx).
Why to have Krishna or Shyam Tulsi in your home ?
Tulsi is a devotional plant in Hindus believe and practised for worshipping lord Vishnu and his incarnation like Krishna and Rama. 
This Tulsi has unique colour (purple) and it's leaves are crisp in nature and has a clove-like aroma. 

When this herbal plant tulsi grows its leaves catch a combined colour of green and purple and turns mostly into purple over the time.
It is mainly used for it's medicinal purposes like curing throat infections, respiratory system, nasal lesions, ear ache and skin diseases, prevent hair fall.
It can be used as a ayurvedic medicine to cure cough, comon cold, indigestion, malaria, cholera, kidney stones, asthma.
The oil of this krishna tulsi is used as eardrop to cure earaches.
Some scientific features of this medicinal plant tulsi is that it shows  antimicrobial and antiviral properties.
This herbal tulsi plant helps to purify air.
Procedure to sow Krishna or Shyam Tulsi Seeds:
Mix rich soil is best with organic manure.
 Using seedling tray to germinate or you can grow directly to the ground.
For each section of tray fill them with potting mix soil and make them moist
Then  place 2-3 Krishna tulsi or shyam Tulsi or kali Tulsi seed in each filled tray hole.
This herbal plant needs bright sunlight. Avoid to place the tulsi plant where direct sunlight falls for more time. Also protect tulsi plant from frost during winter.
Provide medium watering when the soil upto depth of 1-2 inches get dry.
Wait for 14-21 days for the germination of Krishna Tulsi or Shyam Tulsi or kali Tulsi seeds.
Share
View full details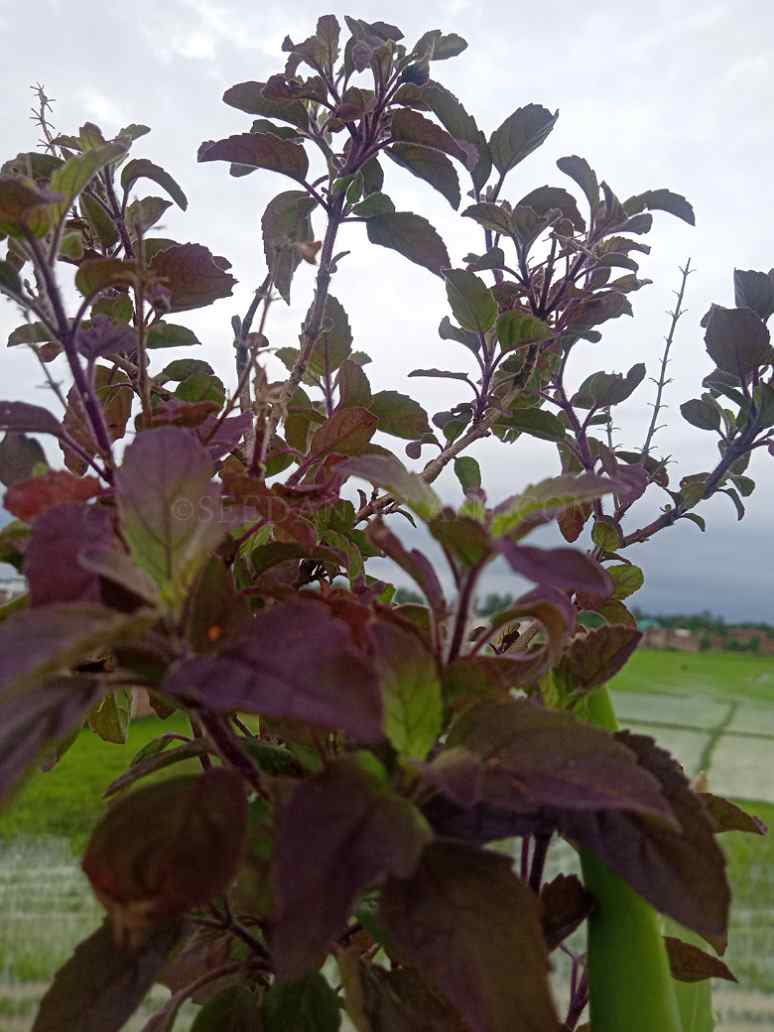 Common Questions
What is the Shipping Cost ?

Your products are shipped based on option selected at the time of Checkout.

1. India Post Shipping = ₹37/-

2. Private Courier Shipping =₹67/-