seedandplant
Regular price
Sale price
₹30.00
Unit price
per
Sale
Sold out
What Will You Have In The Product?
Seeds quantity- 60
Common names of Desi Green Okra/ Desi green bhindi/bhendi desi greenIn India:
Green Lady finger (English),Hari Bhindi( Hindi),Bhendi (Marathi),Vendai ( Tamil),Dhenras (Bengali),Bhindo (Gujarati),Bendekayi ( Kannada),Ventaykka( Malayalam),Asra-pattraka ( sanskrit)
Best time for sowing Desi Green Okra/ Desi green bhindi/bhendi desi green Seed:
For growing in summer okra green should be sown in the month:January-March 
For growing in monsoon okra green should be sown in the month:June-August in plains 
Desi bhindi cultivation in India  depends upon the region, its climate, environment, temperature
Best Harvesting Time Of Desi Green Okra/ Desi green bhindi/bhendi desi green seed
Desi okra will take harvesting period in India after  60-65 days  of sowing. Depending on your choice but  general harvesting should be done When the okra fruit size reaches 2-4 inch.
Requirement of Soil pH for sowing and growing  Green Okra Open Pollination Seeds / Desi Hari Bhindi.
5- 7 is best suited pH range of soil required for growing desi hari bhindi.
Optimum Temperature Requirement For Growing Bhendi Seed In India For Terrace Garden:
If you are planning to sow the seeds very early for harvesting in summer season. One important thing to be kept in remembrance is that the minimum soil temperature should be 20°C. less than 20°C soil temperature may give adverse affect on th germination of okra seeds.
Optimum range of temperature for sowing bendi seed should be between 24-27°C, which is best suited soil temperature for  good germination if okra seed.
Sunlight Requirements For Germination of Green okra seeds In India if directly sown to the soil:
Make sure okra is a sunlight loving  vegetable of summer season. You can grow okra vegetable in summer season where it can get enough sunlight of atleast 5-6 hours. So it is acceptable if you are planning to grow in your balcony garden or for terrace garden where easily accessible of sunlight is possible for 5-6 hours.
Soil requirement for Desi Okra Green seeds germination for terrace gardening:
Soil with pH range between 6.5-7 is best suited for okra seeds germiantion. It may happen that the available soil with you hasn't this pH range.So you can make your own soil to gain this pH range of soil by adding compost  like vermi compost and neem cake.
Pot Size For Growing Okra Green Desi For Terrace Gardening
10-12 inches in depth and width also is optimum size for growing okra green desi variety. Old bucket, concrete pot plastic pots and any container type can be used To grow your healthy vegetables in your terrace garden.
How to grow okra/ bhendi/ bhindi more faster.
Prior to sowing method of okra seeds desi/ green bhindi/ hari bhindi.
First  you should have good okra seeds of desi variety which you can get online from seedandplant.com
The take a medium sized bowl place a cotton cloth in  that bowl.
Wet the cloth by spraying water over it.
Then place our good quality seeds of okra over the wet cotton cloth. Again place the cloth over the placed okra seeds.
Note that there should be 3-4 pieces of covered cotton cloth over the seeds.
Again wet properly the covered cotton cloth and remove the extra water stored in the bowl.
Sowing Method Of Okra Green Desi Seeds / Desi Bhindi:
When the seeds of okra get sprouts after 1 day or 2 day . Take out the okra green desi seeds  and  prepare the soil in your pot to sow them. You can use small size pots or grow bag to make the sprouts  in seedling. 
So to sow the  sprouting okra seed soil used should be loose and well drained. Ll
Filled the soil upto 3/4 th of the seedling grow bag and spray water to the soil.
Then place one  sprouted okra seeds in each grow bag and cover the okra green desi seeds with same soil prepared.
Keep watering the  sown bhindi seed regularly when  the soil feels to be dry in touch.
Transplanting of okra plant seedling BH or Bhindi plant in Pot:
From 15 days now it is the right time for planting okra seedling.
Pot size for planting okra plant  should be atleast 10-12 inches in which only one okra planting process or bhindi planting can be done.
If you have available pot sizes is more than 10-12 inches 2-3  planting of okra seedling in pot can be done.While planting  okra make sure to remove whole bhindi plant seedling with Its surrounding soil. Directly take out the soil with the seedling from the previous small sized pots or grow bag.
Now  fill the pot with well drained loose and rich soil in which you are planning to planting of okra plant. Only that amount of soil should be filled initially so that that seeding with attached soil can be placed properly in the transplanting pot.
Water the soil properly, so that it can be wet only but don't make soil soggy.
Then place each okra seedings with the attached soil in each pot and provide soil near the roots and stem.
Again provide water to the covered soil.And keep water on a regular basis though out its growing period.
For good growth and yield provide organic compost like vermi compost should be used so that you can get the benefit of chemical free vegetable in your diet. 
Approximately 28 days of sowing when the plant starts bending because of it height and weight, provide a support with Wooden stick or small dried broken branches of other plants or trees of 2-3 feet or you can choose any thing which you have to provide support.
Generally flowering of okra plant will takes place around 35-41 days..
Harvesting of okra can be done once the fruit size become 3-4 inches or more or if you like to add baby okra of size 2-3 inches in your diet you can start harvesting from this stage also.
Fertilizing Schedule For Desi Okra  Seeds In India:
Use organic fertilizer for your okra plants after every 4 weeks.
Precautions Of Okra Plant For Terrace Gardening:
Good amount of sunlight is necessary for growth and yield of green okra.
Watering should be done to keep the soil moist.
While watering avoid to wet leaves of okra plant for terrace gardening. Because of wet leaves fungal diseases attack.
Share
View full details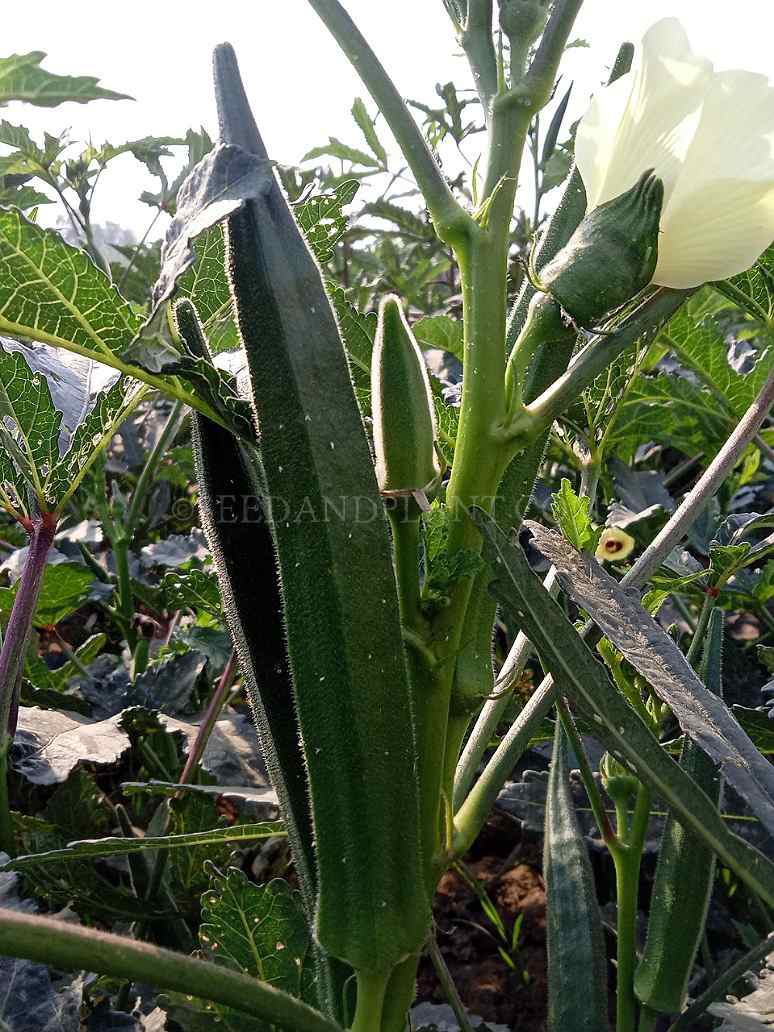 Growing up very well
So far the plants are growing up so well
Common Questions
What is the Shipping Cost ?

Your products are shipped based on option selected at the time of Checkout.

1. India Post Shipping = ₹37/-

2. Private Courier Shipping =₹67/-