seedandplant
Regular price
Sale price
₹40.00
Unit price
per
Sale
Sold out
What Will You Have In The Product?
Seeds quantity= 30
Cucumber sowing time in India:
Summer crop: January- February
Rainy season crop: June - July
Different Names of Cucumber In India
Hindi: Kankri or Khira,
Malayalam: Vellari,
Telugu: Dosekaya or Dosakai,
Bengali: shosha,
Assamese: Tihu or Tiyoh
Marathi
Kannad
Khira, Kheera (Hindi)
Sitachinni, Kankri (Marathi)
Shausha, shasha (Bengali)
Kakdi (Oriya)
Vellarikkay (Tamil)
Dosakaya (Telugu)
Vellari (Malayalam)
Soutekayi (Kannada)
Thabi (Manipuri)
Soil Conditions:
Soil required for the good harvest of this pot vegitable should be fertile. Soil quality should be vary from sandy loam to clay soil with good drainage having pH range of 5.5-7 is generally accepted for cucumber cultivation.
If you are going directly sow the seeds in your garden make sure the soil should be well drained soil like sandy loam.
pH of Soil For Light Green Cucumber Variety:
5.5-7 soil pH range Is preferred for growing cucumber light green seeds 
For suitable pot size for growing cucumber on terrace gardening should be at least 10 inch wide. In this size you can plant one plant in each pot.
Temperature Requirement:
Requirement of temperature in celcius for growing cucumber vegetable should be from 22°C - 23°C.
The soil temperature required for sowing the cucumber seed open pollination in India is 60°F but if you will sow the seed of watermelon in soil with temperature 75°F to 85°F. germination will be much better.
The ideal temperature for cucumber plant seeds germiantion is 85°F.
Sunlight Requirements for cucumber:
Good amount of 5-6 hours sunlight is required for of cucumber plant to the get the fruit. If there is an insufficient amount of sunlight provided will lower the yield and poor fruit.
Prior to sowing:
Loose the soil where you are planning to sow the cucumber seed.
Make sure cucumber plant needs good space as like pumpkin so select the site where cucumber can get good space to grow.
If you have limited space then you can think to grown the cucumber in vertical by providing support of net.
Before sowing the cucumber seeds water the soil where you are planning to sow the cucumber seeds.
Sowing Process:
Now sow  the cucumber seeds 3/4 inch deep  into the  potting mix soil filled.
You can sow 2 seeds in the soil of bed with bed width 2.5 metres if the seeds are sown in ground.
Maintain a distance of 60 cms between the 2 sown seeds.
Then cover the seeds with you potting mix soil.
Then provide a thin soil cover above the sown seeds.
Provide water with spray bottle to fully wet the soil but be carefull don't over water soil so the the seeds may get displaced by their sowing position.
Watering of cucumber plant seed should be in 2- 3 days climate untill the germination takes but on wet climate you should  watering when you feel the requirement of the plant.
Germination Time of cucumber seeds
Germination time for cucumner seeds can be 3-10 days.
Right transplanting Time if cucumber plant.
The roots of cucumber are very delicate so generally it in not recommended to uproot the plant and sow them.
If you want to transplant your cucumber seedling you  can directly pick the plant with soil media and  transplant them to you desired place in your garden.
Precautions and Caring of cucumber:
Make sure to provide holes in you pot or grow bag if they don't have.
5-6 hours full sunlight is necessary for good cucumber plant.
Watering should be done properly and regularly after 2-3 days.
While transplanting the plant take the surrounding soil attached with the plant, don't pull out the plant only from the soil to transplant in another pot or grow bag.
Use organic compost or manure once in a month during growing period to maintain soil richness.
How to buy cucumber seeds online in India?
Every one is now living in a very busy life, most of the people have different work to do so that  it may not be possible to go to the shop and buy seeds to fulfill your hobby of doings gardening of vegetables, flower and herbs. It may be possibility that we can't fulfill our requirements of adding chemical less and healthy vegetables in our diet  from the he vegetable which we get from out side. But one can reach upto certain limit  for having healthy vegetables in our daily life. Yes obviously we can have a good, healthy and chemical less vegetables and herbs in our daily diet and this can be done by  growing your own green and healthy vegetables in your garden or in your terrace garden or in you balcony gardening. Yes seedandplant  cares  the gardeners like you all which provides a healthy vegetables seeds online in India and also healthy herbs seed online in  India. So our customers can buy cucumber seed open pollination from seedandplant at reasonable price with more seed quantity.
Share
View full details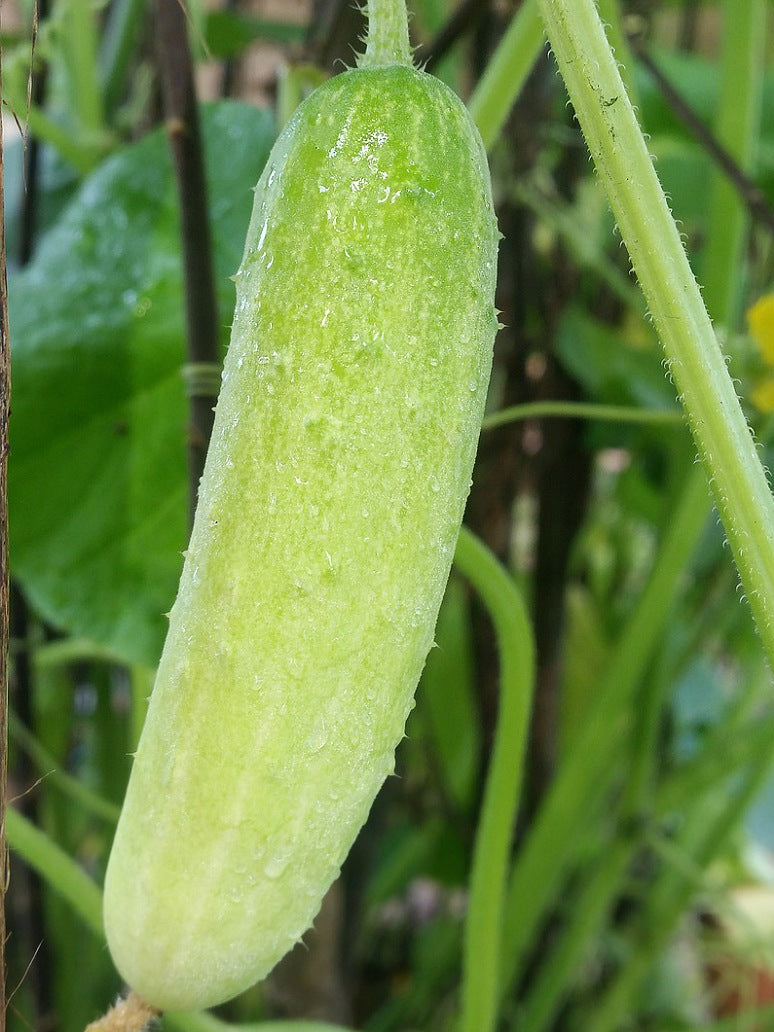 It is first time trial order after success I will give feedback
Common Questions
What is the Shipping Cost ?

Your products are shipped based on option selected at the time of Checkout.

1. India Post Shipping = ₹37/-

2. Private Courier Shipping =₹67/-