seedandplant
Regular price
Sale price
₹65.00
Unit price
per
Sale
Sold out
What Will You Have In Product Capsicum Mix Color Vegetables Seeds Open Pollination ? 
Seed quantity-: 30 
Capsicum Red seed      - 10
Capsicum yellow seed  - 10
Capsicum Green seed - 10
Why to have Capsicum Mix Color Vegetables Seeds Open Pollination in your food ?
Capsicum is also called as bell pepper (Capsicum annum), sweet pepper.
This vegetable capsicum comes with different colors like green ,yellow, red , purple.
It contains low fat so it is beneficiary from health point of view also.
It has medicinal properties properties and is found as a good source of carotenoids like beta-cryptoxanthin, zeaxanthin and lutein and various vitamins, minerals and nutrients.
Some health benefits of having capsicum are that it lowers the heart diseases risk because of folate and vitamin B6 containing.
If anyone is over weighted and want to lose weight  then adding capsicum vegetable in  food will help to lose weight and make fit.
As it is antioxidant and contains anti-inflammatory nutrients  helps to reduce the chances of various types of cancer.
Some other benefits of eating capsicum in your diet are that it builds your immunity, maintain the iron deficiency, make your hair long and shiny and also improves skin health.
So having different capsicum  in your diet fulfill your all above benefits hence seed and plant provides different capsicum seeds in one pack so that you can get all varieties in one pack.
Procedure To Sow Capsicum Mixed Color Seeds( Open pollinated):
Sowing and growing Capsicum or Bell Pepper indoor is much easier than in outside.  Before sowing into the soil place the capsicum seeds in warm water until the seeds get settle down. As this makes the germination fast after sowing. 
Take the seeds outside from water and prepare the soil in which you want to sow the capsicum seeds.
Now fill the tray with soil prepared (The soil should be loose well drained and added with organic manure).
Place each  capsicum seeds at 1/4 inch deep in the each section of the  seedling tray from the soil surface and cover the seeds with soil.
Now place the seedling tray at a warm place such as window sill so that  it can get sunlight.
Now water the sown seeds so that the soil can get moist only but not become soggy and continue to apply medium water whenever it is required.
After germination of seeds  when they get two sets of leaves it means its time to transplant the plant in a  grower bag or pot filled with rich  well drained soil mixed with organic manure.
Planting and Caring of Capsicum Plant:
While transplanting the plants maintain a distance of at least 2 inch between the two plants.
Don't over water as it may cause rotting of the roots. 
Try to maintain the warm temperature  of 70-80 degree

Fahrenheit.
Share
View full details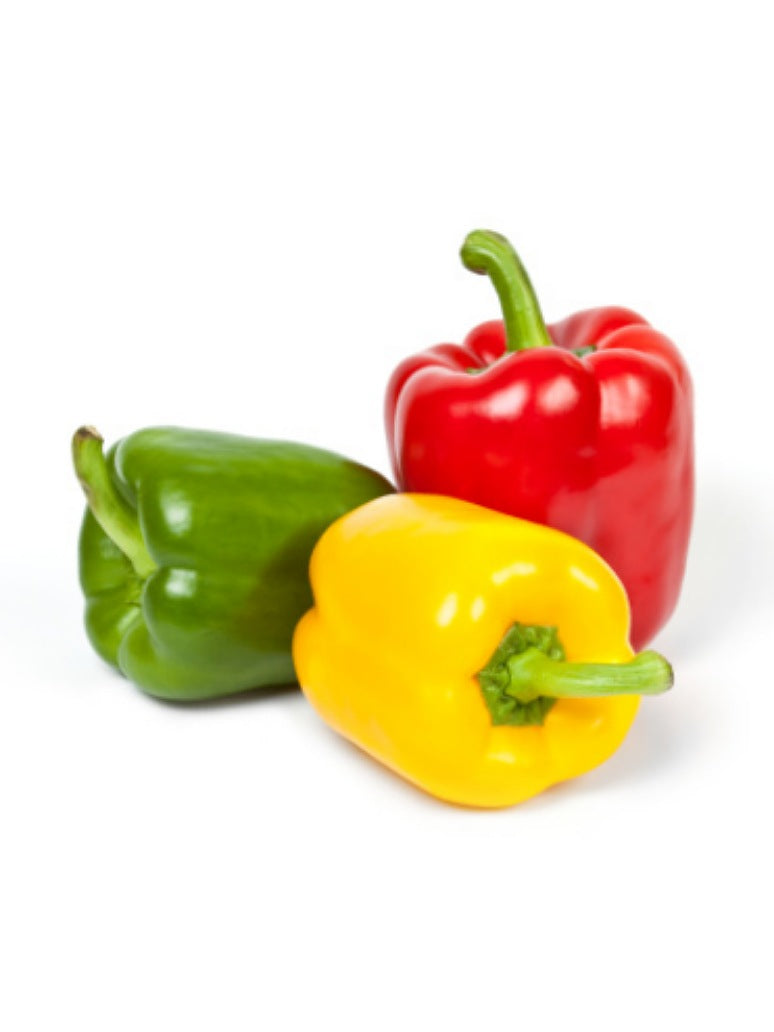 Wonderful Option. Amazing services
Surprised to have such online options. Amazing delivery with quality product.
All seeds germinated
Purchased this for my terrace garden. All seeds germinated. Now flowers are there in the plants.
Common Questions
What is the Shipping Cost ?

Your products are shipped based on option selected at the time of Checkout.

1. India Post Shipping = ₹37/-

2. Private Courier Shipping =₹67/-