seedandplant
Regular price
Sale price
₹35.00
Unit price
per
Sale
Sold out
What Will You Have In The Pack Of Hybrid Bottle Gourd Round?
Seed quantity- 5
Different names of Bottle gourd Round In India:
Lattoo lauki, Round bottle gourd, White-flowered gourd, long melon, New Guinea bean and Tasmania bean, Bottle Gourd,Sorekai / Chorakkai, Chorakaa, Sorakaya / Anapa Kaya, Sorekai / Esugai Balli / Halu Gumbala, Ghia / Lauki, Louki, Lau, Dudhi, Gardudde / Boblen, Pandharabhopla / Dudya Bhopal, Lau, Ghia Da Sag, Turae: Zeeth
Best time for sowing Bottle Gourd Round Seed- Lauki Seed In India;
For summer vegetables crop:-Sow the round bottle gourd desi seeds  in India or lauki seeds in India between January-March
For monsoon vegetables crop:- Sow the round bottle gourd desi seeds in India or lauki seeds in India between June-July in plains and March-June in hills.
Harvesting Time Of Round Louki Hybrid or Bottle Gourd Round Open Pollination:
It differs with respect to the summer vegetables season and winter vegetable season but the general duration of harvesting Round bottle gourd or Gol louki vegetable is 60-70 days after sowing.
Harvesting time of bottle gourd may also be 50-60 days depending on the varieties of the louki.
Soil Requirement for Open Pollination Seeds Bottle Gourd terrace gardening In India:
Bottle Gourd terrace gardening in India can be grown in many type of soil but the best soil suits for its growth is sandy loamy soils with a good drainage system.
 For the summer vegetables terrace gardening you can make your own potting mix soil keeping the proportion like 40% soil 30% sand and 30% vermi-compost.
This will perform a good type of soil for growing bottle gourd vegetable in terrace garden in India.
PH Of Soil For Planting Bottle Gourd Seeds:
For growing bottle gourd in your Veggie garden the normal PH range of soil should vary from 6.5- 7.5. Planting Bottle Gourd in this pH range will help to get good crop. 
Sunlight Requirements For Germination Of Bottle Gourd:
Direct full sunlight is better for bottle gourd plant as this healthy vegetables loves sunlight. 
Pot Size Required For Planting Bottle Gourd For Terrace Garden:
As the roots of bottle gourd goes somewhat deep so bigger size of pot is required to grow them. 
This vegetable can be grown from dribbling method and from transplanting method also so for getting seedlings you can use som other small size pot. But for growing to get the fruit of bottle gourd open pollination seeds big size of 24*24 inches pot or grow bags is required.
Prior to sowing of Bottle Gourd Seeds
Before sowing the seed soak the seeds in normal water for 24 hours. This should be done as a prior work to get faster germination for bottle gourd seed.
Sowing Process:
Now sow 2-3 bottle gourd seed 1-2 inches below the top of soil surface the filled potting mix soil. Then provide a growing media cover above the sown seeds.
Properly moisten the soil with water but avoid over watering.
Apply water when you feel that soil has been dried.
Germination Time Of Bottle Gourd seed:
Bottle gourd seed takes 10-14 days to germinate.
Transplanting Time of Bottle Gourd round seed:
When the bottle gourd plant reach up to a height of 5-6 inches or when the plant acquires 4-5 leaves. It is the correct time to transplant the healthy plant.
Some techniques and rules to be kept in mind while transplanting bottle gourd plant. If there us any week bottle gourd plant remove it by cutting at the bottom. Then take out the healthy plants carefully so that the bottle gourd plant's root should not be damaged or cut.
1.5-2 meters of spacing should be provided between two bottle gourd plant and row spacing should be 1-2 meters.
Cut the growing tip of main vine when it is 6-8 feet long, this provide good strength and support to the other bottle gourd plant's branches.
Precautions And Caring Of Round Bottle Gourd Plant:
Transplanting time should be when the the last frost season is over or in the late spring season.
Requirement of water for bottle gourd round is more so provide good amount of water regularly as per requirement but don't over water it.
Provide organic fertilizer for round bottle gourd plant as per requirement for good growth.
Share
View full details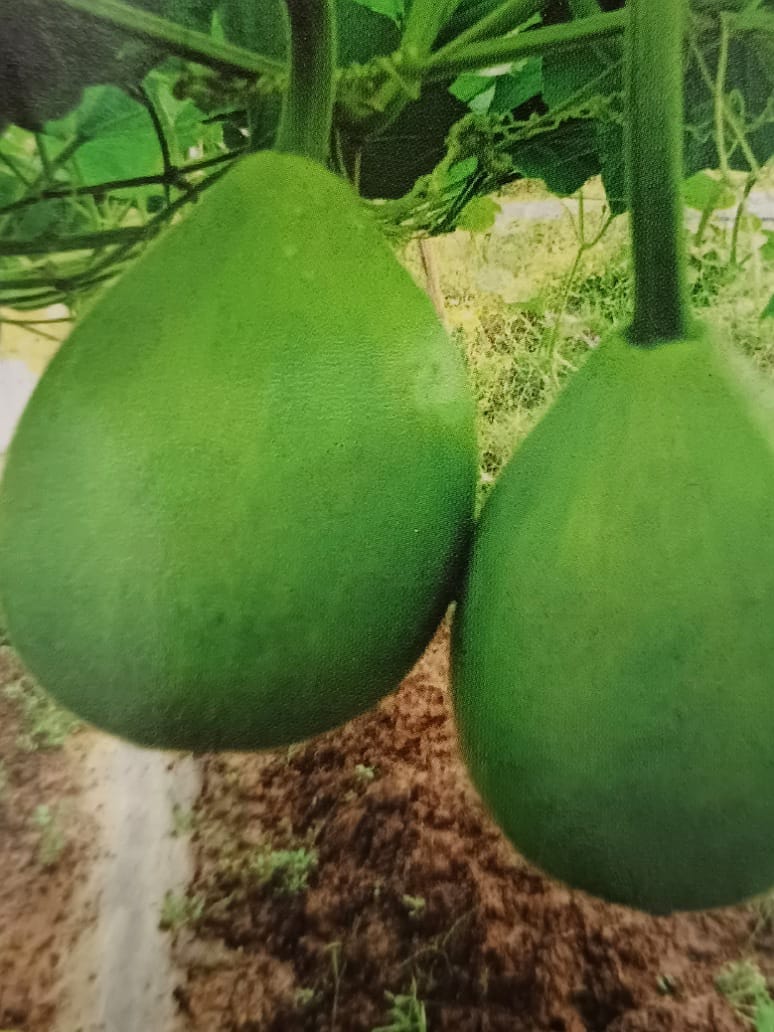 Common Questions
What is the Shipping Cost ?

Your products are shipped based on option selected at the time of Checkout.

1. India Post Shipping = ₹37/-

2. Private Courier Shipping =₹67/-